Storage Chamber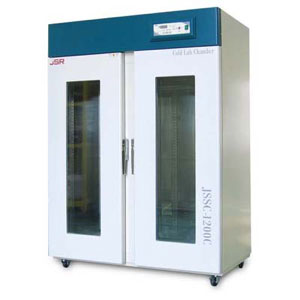 Main Specifications
Temp. Range  : 0℃ ~ 10℃
Cooling       : Hermetically sealed compressor
Controller     :Digital On / Off Controller
Accuracy     : ± 0.1℃
Uniformity    : On /Off within ± 2.0℃
Capacity      : 250 / 700 / 1200 Liters
Convenience & Safety
Transparent tempered safety inner glass window
Height adjustable shelves by 25mm increment
Casters for easy movement.
Over-temperature protection safety
Electrical leakage cut-off.
Precision Temperature Control
Forced air circulation of chilled air by dual blower to achieve homogeneous and cooling air dissipation throughout the chamber
From 0 ~ 10℃, ± 0.1℃ accuracy and ± 2.0℃uniformity
Digital controller enables 0.1℃ resolution and control.
Equipped with wait-off timer, alarm, auto-tuning and in built temperature calibration function
Over temperature protection, over current leakage breaker
If interested in this product, contact us here.